Ashley Furniture Homestore and The Hawk are proud to support Justice Rescue and help their adoptables find forever homes! Each week, Rick will feature a special pet for listeners to fall in love with and hopefully take them home to a loving caring home.
Click here for more info on Justice Rescue.
JUSTICE RESCUE PET OF THE WEEK
 MEET TARA!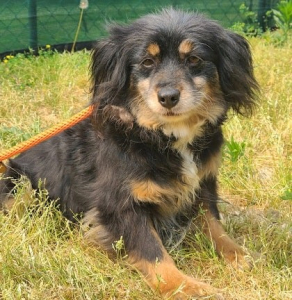 Tara is an 8-year-old spayed female mini Aussie who weighs 15 pounds. This adorable senior gal is super sweet, calm and gentle. She will bat her puppy eyes at her human when she wants to be picked up and she does zoomies when she wants a treat! Tara is learning to walk on a leash and seems to be crate trained. She has tested well with other dogs, loves people and we know that the perfect family is out there for her. Do you have room in your home for this sweet girl?
If you are interested in adopting, please submit an adoption application on our website www.justice-rescue.com. All adoptions take place in Malvern PA