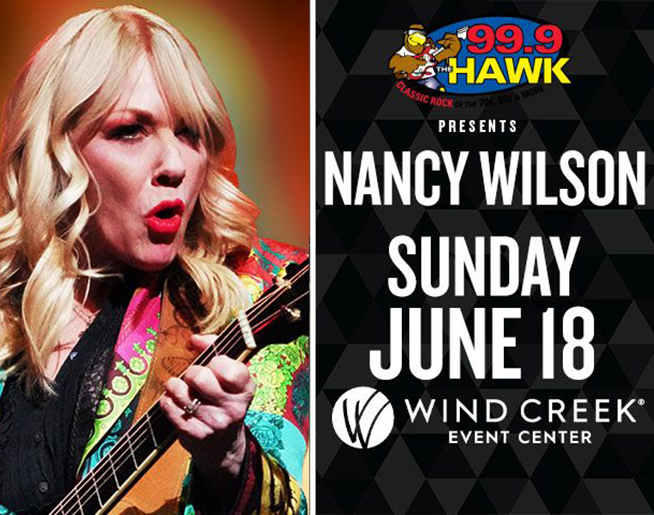 Sunday |  
June 18, 2023
Lobby Doors: 6:00 pm 

  |   

Showtime: 8:00 pm
Pricing Information:
$39.00, $49.00 and $59.00 + Fees
For Luxury Seating options, click HERE.
LISTEN THIS WEEKEND FOR THE KEYWORD TO TEXT TO 610-904-9999 FOR YOUR SHOT TO WIN TICKETS!
Tickets on sale now
"A life of making music is truly a blessed life" – words from Nancy Wilson that ring true, and she continues to be inspired year after year. 
Nancy Wilson is celebrated as a seminal musician in rock 'n' roll history. A guitar virtuoso from the age of 9, Nancy (and her sister Ann) lead the multi-platinum rock group, Heart, who have sold upwards of 35 million albums. Nancy is revered as an ingenious guitar player, and as a gifted lead vocalist. In fact, that's Nancy singing on Heart's first Number One hit, "These Dreams." As a songwriter, Nancy has co-written a collection of indelible songs that have earned their way into the classic rock canon ("Magic Man," "Crazy on You," "Barracuda," "Straight On"). Nancy and Ann were honored with the ASCAP Founders Award (2009), ASCAP's most prestigious honor, awarded to songwriters who have made pioneering contributions to music. MORE INFO AND TICKETS