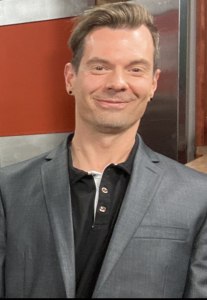 'I've been doing the radio thing for over 25 years now, and I honestly can't imagine doing anything else. As someone who originally applied to be a music major in college, I backed out realizing I'm not really good enough of a guitar player to ever be a professional musician. Lol I like to tell people that being in radio beats having a 'real job,' because it's so much fun. And not brain surgery!
Radio was intriguing to me because I LOVE music. All kinds of music. Live music is my favorite… and Van Halen is my all time favorite band (don't bother asking me which era… I love ALL eras of VH).
When I'm not on the radio, I'm a huge fitness fan. So much so that I eventually got certified as a personal trainer and running coach. I'm also a coffee aficionado (which really is just a fancy way of saying I drink A LOT of coffee). Having a wife and two kids means I don't get to watch a ton of TV, but when I do… it's Marvel and Star Wars for me.
Wanna talk music, coffee, running, or Star Wars? Definitely shoot me and email and we can chat all the things!' [email protected]